Top ten overrated people/places/things in Philadelphia
Yesterday I wrote out a list of ten people/places/things that I feel are very underrated in Philadelphia and the surrounding area, now comes the fun part, being negative and ridiculing those people/places/things that I feel are overrated. Believe it or not, this was actually a more difficult list to compile, which really speaks for how many great things we have in this city.
10. Love Park
If you were to ask me about Love Park ten years ago, I would have said great things about it, especially given its importance to the Philadelphia skateboard community. Then, Mayor John Street had to spend millions of dollars of public money making sure he screwed it up as much as possible so skateboarders couldn't go there. Now, what exactly is the point of Love Park? It's nothing more than a sign, a fountain, and a bunch of people who get their picture taken in front of the sign and the fountain (which obscures the view of the Philadelphia Museum of Art during the summer months). I don't mind people who get their picture taken in front of it, in fact, I encourage it. What I do mind is that the city making business permits to operate in Love Park really expensive, so you can't even get food there or anything. Oh, but there is a gift shop, because by the city's nonsensical logic, it's the ONLY place where you can buy stuff with the LOVE emblem on it.
9. Radio 104.5
What a shame. When Radio 104.5 came onto the scene, I fell in love instantly. Finally, here was a radio station that got it. It took what Y100 was, and made it better. This was a great radio station that played good rock songs of the current day, but also mixed in other great picks like The Smiths, Oasis, Depeche Mode, and the Violent Femmes. You also wouldn't hear a lot of commercials, which was their main selling point. Now, a few years later, there is nothing distinguishable about Radio 104.5. The variety that used to be endearing about the station is gone. Now, they pretty much pick ten artists and just play their songs to the point of nausea. I like the Foo Fighters and Mumford and Sons as much as anybody else, but I don't like that it's practically all they play. That Foster the People song "Pumped Up Kicks" was good the first five hundred times I heard it, now I feel like that song should be played during a ritualistic cult suicide. It's still about the music as opposed to radio personalities at Radio 104.5, which does distinguish it from other stations in Philly, but the music has really gone downhill there. Now what?
8. Drinking in Manayunk
The transformation of Manayunk from a depressed and hopeless area along the Schuylkill River Canal into a vibrant area of bars, local businesses, and restaurants has been a true Philadelphia success story, and I am very happy for Manayunk that it has achieved such success. I still enjoy going there during the afternoon hours to eat at some of the great restaurants it has to offer, and to walk around Main Street. Then, nightfall hits. This is when Manayunk turns lousy for me. First, parking everywhere in Philly is bad, but do to geography and sheer numbers of people, parking in Manayunk is atrocious. Good luck finding a spot, it's next to impossible and that includes all of Manayunk and some of Roxborough, not just Main Street. Then, there are the droves of obnoxious suburbanites who have to constantly scream in your ear about how they love getting drunk in Philly. combined with every douchebag from Temple, Philadelphia University, Penn, Drexel, and St Joe's…all in one area. There are other places in the city that are much more fun to enjoy a night out in, such as the Gayborhood and Northern Liberties. Manayunk is good for an afternoon, but no fun at night.
7. Chickie's and Pete's
Chickie's and Pete's is a product of very good marketing. When you really sit down and look at what Chickie's and Pete's is, there is nothing all that special about it. Through clever marketing, they have made it sound like their "crab fries" are actually something people go to Philadelphia specifically for, when really it's just crinkle-cut fries with Old Bay seasoning. The actual establishments are fun for watching a game I suppose, but you can watch a sporting event at any bar and in some cases, probably get better food, cheaper drinks, and a better beer/food selection. Chickie's and Pete's has managed to make it sound like it's the only place where you can actually watch a sporting event if you can't physically be there (their location at 15th and Packer especially), and the fact that they let local radio and TV stations report there drives home that fact. Why people will go out of their way to watch a sporting event at Chickie's and Pete's when they could just as easily go to a place that is cheaper and better is a true Philly mystery, considering everything there is simply average, and yes, that includes the crab fries.
6. Snowfall
Snow is pretty beautiful and I don't mind it most of the time. However, if you have to drive in Philadelphia and it snows, good freaking luck. The city takes forever to clear the roads, and some roads they don't even bother clearing or even salting. It's a pretty common occurrence for some roads to have a thick sheet of ice on them from constant thawing and refreezing. Add in the fact that Philadelphians are justifiably territorial about their parking spaces that they took the time to dig out (rightfully so, parking here is horrible), and what was once a beautiful snowfall turns into a nightmare. The snow is beautiful at first and it's always cool to see a virgin snowfall against the skyline and at various spots throughout the city. However, if you have to go somewhere in the snow, you're in for a long hassle. This is why I, and many other people in Philadelphia get a little panicky when a massive snowfall is predicted.
5. Attending an Eagles game at Lincoln Financial Field
I probably learned more about human nature attending a few Eagles games at Veterans Stadium than I did anywhere else. You really saw everything up there in the 700 Level. There were things that happened up there that I never thought humans were capable of, but such was the nature of The Vet. Ironically, it was this kind of behavior that made seeing games at The Vet worthwhile. Since building Lincoln Financial Field, the Eagles made it their goal to weed out the "hooligan" element of Eagles fans since tickets are now much more expensive. Eagles games at The Linc don't even classify as fun for me, they seem more like an expensive errand. Paying 65 dollars and up to watch people stand around on the field while there are commercials going on hardly seems worth it. In addition to that, Eagles games used to be a collection of drunken idiots who would leave you alone (if you wore the right jersey) and would keep you entertained through their antics. Now, even the "cheap seats" are saturated with snobs from outside of Philadelphia who act like attending an Eagles game is family friendly fun. I'd rather watch the game at home and get drunk on beer that doesn't cost 7 dollars a cup.
4. Ed Rendell
The good part about Ed Rendell is that, for the most part, he was a good mayor. The revitalization of Center City and South Broad Street near City Hall can be vastly attributed to him. The bad part is that while Rendell pumped money, time, and energy into Center City, he pretty much ignored every other area of the city and allowed them to fall further into decay. Rendell is a nice man, and very sincere man, but I don't get why people worship the ground he walks in. He is especially annoying on Eagles Post Game Live where he is brought in to bring the "perspective of the fan." Rendell's perspective usually includes blaming the fans when the Eagles lose and passing it off as analysis (when it isn't anything close to that), and then making some ill-conceived point that makes hardly any sense whatsoever. Rendell has done a lot for Philadelphia as a mayor and during his time as governor, but there are others in Philadelphia who deserve more credit and more admiration than him for what they do.
3. Pat's/Geno's
It had to be said, because it's just so obvious. Pat's and Geno's get a ton of media exposure, and many people who visit Philadelphia for the first time feel that they just have to go to Pat's or Geno's at 9th and Passyunk because it's where the best cheesesteaks are served. What's worse, there are ignorant people in Philadelphia and the surrounding area who think this as well. These people aren't stupid, they're just ignorant because they've never bothered to try anything else. I won't go as far to say these cheesesteaks are horrible, but they're horrible compared to what else is out there. These places are over-hyped tourist traps. You shouldn't need some stupid lingo to order a cheesesteak, and you shouldn't have to be barraged by a bunch of neon lights and Joey Vento's politics just to fulfill your hunger need. I'm glad these places exist, but it's unfortunate there are so many people out there convinced that these places are worth patronizing time and time again, without making the effort of trying something new.
2. Ryan Howard
It  pains me to say anything disparaging about Phillies first baseman Ryan Howard. He seems like a legitimately nice and genuine human being who remains humble despite massive success and a massive salary. But, unfortunately, Howard has become a very overrated part of the Phillies teams. I don't buy the argument that he doesn't perform in the clutch because he always gets hot around the time the Phillies are making a push for the playoffs. What I do buy is that as the years have progressed, Howard's at-bats have become increasingly predictable and teams know to do two things: throw a lot of breaking pitches and shift the infield to the right knowing Howard will pull almost everything. Howard's inability to hit for a decent average, his mediocre defense, and his fizzling out when the entire season was on the line makes him very overrated given the salary and the number of years in his contract.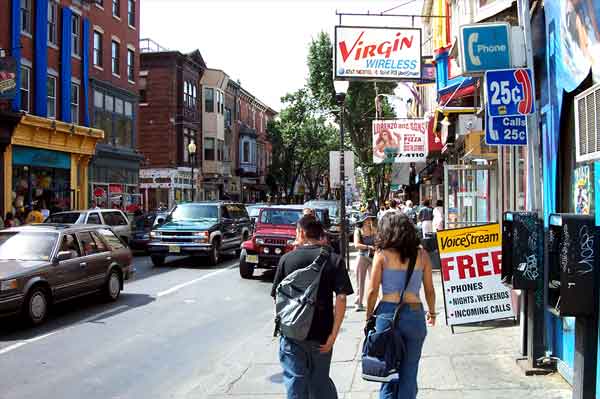 1. South Street
Why do all of these birthday celebrations I get on Facebook talk about spending the night bar hopping on South Street? South Street isn't nearly what it used to be. What is now consists of overpriced condos, a Whole Foods, drunk food that pales in comparison to what exists in Olde City, Manayunk, Northern Liberties, and even some suburbs, and a lot of lame bars. I enjoy Tattooed Mom's and Ishkabibbles, but I despise Downey's, Jim's Steaks, and Fat Tuesday's. I'm not here to preach about what things used to be like on South Street, rather I'm here to state that whole experience of spending a few hours there drinking is overrated and overhyped.