Top ten things in/around Philadelphia that illicit a "WTF" reaction from most people
It's great that the Philadelphia-area has so much to offer, but there are many things that just make one stop and say, "Oh what the fuck." Coming up with just ten things was difficult, but I think I came up with a varied and detailed list. Here are the top ten things in and around Philadelphia that illicit a "WTF" response from most people.
10. The King of Prussia Mall
It's a shopping lover's paradise, but lets be real, who the hell goes to malls anymore? Malls are overpriced, they're not very efficient, and lets be real, it just makes a lot more sense to buy things online and just pay for shipping and handling. That said, while other malls in the area struggle (see: Granite Run Mall), King of Prussia, which is already massive as it is, is planning an enormous expansion. It takes a special person with a lot of time, energy, and most of all, money, to make shopping at the King of Prussia Mall a regular occurrence. It's not a bad place though, it provides lots of jobs and definitely helps the local economy. It's WTF-inducing in that it bucks the trend of every other mall in the area.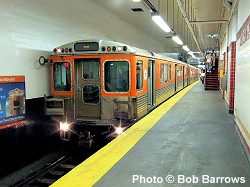 9. City Hall Subway Station
Good lord, Philadelphia really screwed this one up. The fact that City Hall itself is beautiful and a symbol of our city's amazing history and beauty is something we all take pride in. Not just Philly, every city has that mindset with their City Hall. But other cities also make sure that if there's a subway stop at their City Hall, that it actually looks nice. Philadelphia's City Hall station could arguably be the dirtiest and most disgusting station on the entire Broad Street Line. The lighting is weird, it has the look and scent of a dirty bathroom (even frat houses at Drexel have cleaner facilities than it), and it just disgraceful that Philadelphia would allow that station to look so terrible. Even more weird…Suburban Station and Market East are both really nice, which makes the fact that City Hall Station being so shitty make even less sense.
8. The traffic on the Schuylkill Expressway
Worst. Road. Ever. Is there ever a time this road isn't backed up in both directions? Seriously, what the fuck? Who planned this shit? Some genius got the idea to build a highway from densely populated exburbs to a major US city like Philadelphia along a freaking river and along a cliffside, making lane expansion impossible. Furthermore, the merge points from the on/off ramps are almost non-existent, which makes the road incredibly dangerous. It is never smooth sailing on this "highway" and that is why this road is well-deserving of the nicknames that people give it such as "I-Seventy-Sucks" and "The Sure-kill Expressway." Oh, one last thing. This isn't an Expressway because that implies you'll actually get there quickly, which will never happen on the Schuylkill.
7. The infatuation with Andy Reid by national pundits
I used to wonder why so many people in Philadelphia were disenfranchised with the Eagles and would root for the Cowboys or the Steelers instead of their hometown Eagles, despite never visiting Dallas or Pittsburgh. In the last twelve seasons, it has suddenly started to make more sense, even though Dallas still sucks. Andy Reid's coaching is beyond abysmal. He makes the same dumb mistakes every game, and these are mistakes he has been making since his first year of coaching in 1999. Also, he treats the media like complete garbage, saying the same five things every single press conference about "doing a better job" and "taking responsibility for losses", yet never fixes anything. He pretty much treats everyone except his players as if they're trash. Yet, the national media always treats Reid as if he's one of the greatest coaches in the game, and is a master at drafting talent. Reid has struck out in the draft more than he has hit home runs, and still hasn't won a Super Bowl. Andy Reid sucks, plain and simple.
6. Bridesburg 
What a weird section of the city. No offense to anybody from Bridesburg who may read this site, but I definitely feel a certain kind of way when I'm in Bridesburg, and it's not a feeling I get in any other area of the city. Mainly, it's a feeling of, "What the fuck is with this place?" It's a very strange mix of businesses and houses, but the houses aren't the standard Philadelphia rowhomes or townhouses. Along Richmond Avenue there are these houses that look like trailers, except they're not. The whole area just seems really tucked away and cramped, and if you go to that Wawa in Bridesburg, prepare to see some people that might have been ingesting the chemicals from the nearby Rohm and Haas Plant. I don't mind Bridesburg, but it's definitely a WTF neighborhood because unlike a lot of other neighborhoods in Philly, Bridesburg doesn't have anything specific to offer the city. It's just there. I could be wrong, but it's just my opinion.
5. SEPTA inconsistencies
We all got places to go, and things to do. SEPTA is such a crap shoot that riding it is always an adventure. The buses and trolleys are usually late, except for when you plan on them being late…then they arrive on time. The Broad Street Line and the Market-Frankford EL are good at staying on schedule, but the stations are a freaking mystery to figure out. For example, get on the EL at Frankford and you will pay $3.10 for two tokens.  You do not need exact change, but it's still a pain in the ass. Annoying, but it's logical I suppose. What isn't logical is getting on the same train line at 34th Street near Drexel and needing two dollars exactly. It's disgusting that some stations offer more or less than others. If someone were from out of town and trying to navigate SEPTA, the idea of paying for tickets or tokens would be maddeningly frustrating. Hopefully, when SEPTA switches over to a 21st Century ticket system like every other city, some of these inconsistencies go away.
4. Magazine lists that bash Philadelphia
Philadelphia has its flaws, and LOLadelphia would not exist if it didn't. That said, it's pretty annoying that every time GQ or some other hack magazine that wants some cheap press by making a list that bashes cities does so, they take a lot of cheap shots at Philly. In the last few years, we have been labeled as obese, miserable, ugly, and poorly dressed. I got a problem with these lists because every city has people that fit that criteria, and it's not fair to call a city as "ugly" since beauty is relative. These assholes have no right to view our city from a distance and say we're a city of homely residents. It's pretty fair to assume, in my opinion, that many of these people who write these lists have never stepped foot in Philly, and are simply going based upon what they heard elsewhere. These lists aren't worth getting upset over, but they do illicit a WTF response because usually, they're just not true at all.
3. Our sports fans
Philadelphia sports fans certainly love to keep it interesting. I've said it before and I'll say it again, we got the best sports fans in all of America and I wouldn't want to be anything other than a Philadelphia sports fan. However, we have some individual fans that do some really fucked up things. For example:
The guy from Cherry Hill, NJ who vomited (on purpose) on a 11 year-old
An Eagles fan shot a flare gun across Veterans Stadium in 1998
The public urination and massive brawls in The 700 Level at Veterans Stadium
The guy at the Flyers game who tried to beat up Toronto Maple Leafs enforcer Tie Domi by climbing into the penalty box after Domi squirted water on him
Those are just a few examples of many. What's more, it makes me cringe when some Philadelphia sports fans brag about how "tough" we are, yet get all bent out of shape when criticized, getting all hyper-sensitive and upset over something that usually isn't a big deal and contains at least one small element of truth. We still have great fans and I'll defend the Philly sports fan to the death, but our mental composition sometimes defies all explanation.
2. William Penn optical illusion
It's by far the greatest optical illusion there is. The enormous statue of William Penn atop City Hall features William Penn holding a charter for the establishment of Philadelphia. From every angle, it's clear what Penn is holding. Well, every angle except one. If one walks down the Ben Franklin Parkway with their back to the Art Museum, it looks as though Billy Penn has his dong whipped out and he is actually pissing on the city. When designing the idea for the Parkway (which was modeled after Paris' Champs Elysees), it's said that Benjamin Franklin, known for his unique sense of humor might have done this on purpose. I have no idea if this is true or not, but it's pretty hilarious to look up and see the illusion of Penn with his dick out.
1. The weird odors
I've been in and around Philadelphia my whole life, and I'm still not used to the smell here. This city has a very weird odor to it that I smell almost everywhere. I can't put my finger on what it is, or where it's coming from, but it's something I haven't smelled in any other city I've been to. To drive my point home of this being deserving of the #1 spot on my list…I was once walking on Race Street and heard a little boy ask his dad, "What's that smell?" To which the father responded, "The city." That sums it up right there.
Feedback: Do you agree or disagree with this list? Did I miss something?