Top ten free agent/trade acquisitions in recent Philadelphia sports history that turned out awful
It's not easy being a Philadelphia sports fan. With the exception of the Phillies in 2008, Philly sports have been a plethora of disappointment in the four major sports of baseball, football, basketball, and hockey. For most of my childhood, the Phillies were terrible, the Eagles were terrible, the Flyers would choke, and the Sixers were just there. During the 90s and early 2000's, occasionally one of these teams would try to drum up excitement through a big trade or free agent acquisition, only to see it go up in flames and add to the disappointment. Like most of these lists, coming up with only ten people was really difficult, and the worst part is…I know I left some people out.
Honorable Mentions: Travis Lee (Phillies), Mike Rathje (Flyers), Derrick Coleman (Sixers), Tim Harris (Eagles)
10. Danny Tartabull
Frankly, I'm pretty amazed I was able to find a picture of Danny Tartabull in a Phillies jersey, even if it's a picture of him horribly misplaying a ball hit to the outfield during Spring Training. Tartabull, for a stretch of time in the 1990's was one of the best power-hitters in baseball for the Yankees, Royals, Mariners, and White Sox. Then things got weird.
Despite having a good season in 1996, the White Sox didn't want to re-sign Tartabull. The Phillies, who were still claiming poverty at the time, offered him $2 Million for the 1997 season. Tartabull scuffed at the offer, and turned them down. Only one other team offered him a contract, and it was for $500,000. So Tartabull called the Phillies back, saying he was only kidding. Three games into the 1997 season, Tartabull broke his foot and never played again. I don't mean for the Phillies, I mean in baseball, period. Three games, seven at-bats, zero hits, and $2 Million later, I still cringe when I hear this guy's name.
9. Jeff Hackett
After the Flyers experienced multiple failures at goaltender following the departure of Ron Hextall (see: Brian Boucher, Roman Cechmanik, John Vanbiesbrock), the Flyers tried to make a splash on the first day of free agency in 2004 by signing veteran goalie Jeff Hackett. Hackett was best characterized as a "middle of the road" goaltender, but the Flyers had no idea just what they were getting into with him. 
Things started off well for Hackett, posting two shutouts in his first two games. Then, things evened out and he played average, putting up a record of 10-10-6. Out of nowhere,  Hackett was diagnosed with vertigo of all things. Hackett played one game for the Phantoms, and then he retired…leaving the Flyers without a goalie once again.
8. Elton Brand (work in progress)
The only player on this list that is still playing, it might be a little bit unfair to judge based upon what he has done in two years. However, based on those two years, Brand has been nothing short of a disappointment. After being a 1st overall draft pick in 1998, Brand put up some great seasons with the Chicago Bulls and the Los Angeles Clippers. Since the Clippers are a perennial disappointment, Brand's success is even more impressive.
After signing a massive free agent contract with the Sixers for five years in 2008, then-GM Ed Stefanski was praised for his landing of the coveted player. Since then, Brand has been hurt a lot and has actually been coming off the bench instead of starting. When Stefanski was fired, some of speculated it was due to his signing of Brand, who is pretty much impossible to get rid of and is now simply eating up salary. Brand could bounce back, but I have serious doubts.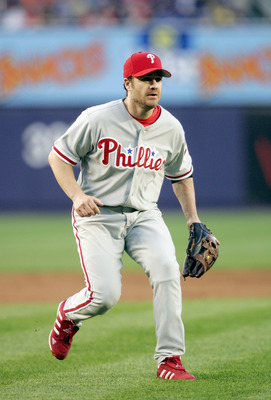 7. David Bell
Before the Phillies made one of their best free agent signings in their history by landing Jim Thome, the Phillies made one of their worst in the signing of David Bell. Much the Flyers had trouble finding a goalie after Ron Hextall left, the Phillies had trouble finding a third baseman after Scott Rolen left. Enter: David Bell.
Bell was signed for four years and $17 Million in November of 2002. All the Phillies got in return was poor hitting, poor fielding, and a guy who was always out with a bad back. When I think about how boring the Phillies used to be, I always think of Bell's stoic demeanor in all facets of the game. Furthermore, When Chase Utley emerged and the Phillies had a decision between who would play 3rd base…David Bell or Placido Polanco, the Phillies chose Bell. Polanco would be traded to Detroit where he had a great season, and Bell continued to suck to the surprise of no one.
6. Jevon Kearse
Don't ever say the Philadelphia Eagles are cheap, because they really aren't. After putting up a lot of great seasons as a Tennessee Titan, the Eagles signed defense end Jevon Kearse in 2004 for eight years and $65 million. This is was the richest contract for a defensive end in NFL history. Kearse, who was known as "The Freak" because of his enormous hands and long arms was supposed to anchor the Eagles' defense.
His first two years in 2004 and 2005, Kearse put up 7.5 sacks, not great, but decent. The following year he got off to a great start, but tore some ligaments in his knee in a game against the New York Giants in the second game of the season, and that was that. The following year in 2007, Kearse arrived to training camp 30 pounds lighter, and according to teammates, seemed to care more about partying in Miami than playing football. By the end of the season, Kearse wasn't even playing anymore and was being paid a hefty salary to ride the bench. He was then released. To this day, I'd rank Kearse as one of the worst moves Andy Reid has made during his tenure.
5. Mike Jackson
Before the Phillies had Jonathan Papelbon, Brad Lidge, or Ryan Madson, the Phillies always found themselves searching for a closer. They had some weird choices in the 1990's, such as Wayne Gomes, Norm Charlton, Heathcliff Sloucomb, and the best of the group, Ricky Bottalico. The closing merry-go-round took a weird twist when the Phillies made a really dumb signing in Mike Jackson.
Jackson was a prospect for the Phillies in the 1980's who never panned out, so he was let go. As the 1990's progressed, Jackson actually did well as a closer and actually had a great season in 1999. Jackson was originally offered a huge deal from the St Louis Cardinals before the 2000 season, but the offer was voided after he failed a physical. Since the Phillies GMs of yore used to operate under the motto of "When others say no, we say yes," Jackson was signed by the Phillies for $3 Million. Predictably, Jackson blew out his elbow in one of the first Spring Training games and didn't play for the entire season, which ended up being his last in baseball.
4. John Vanbiesbrock
The first of many goalies that the Flyers tried to plug in after bringing back Ron Hextall for a second time failed was John Vanbiesbrock. Vanbiesbrock, who was also known as The Beezer, had many good seasons with the newly formed Florida Panthers and this looked like a good move on paper.
It was a big deal when the Flyers signed "The Beezer" because the Flyers were desperate to make something happen with all their 90's talent. The team made it to the Stanley Cup in the 1996-1997 season with Hextall and Garth Snow. The team thought that the team just needed a steady goaltender, and had a decision to make: sign Vanbiesbrock or sign Curtis Joseph to go between the pipes. The Flyers cheaped out and signed Beezer, who had a decent first season, but then lost his job in his second season to rookie Brian Boucher. Ironically, in Vanbiesbrock's first season, the Flyers lost to the Toronto Maple Leafs and their goalie…Curtis Joseph. 
3. Gregg Jeffries
What a perfectly appropriate baseball card photo, Gregg. By the way, that's a pretty lame spelling of your name. If I were to caption that photo it would be, "They paid me $20 million over 4 years to suck. U MAD?!" Fucking right I'm mad. Gregg Jeffries was one of my favorite players in the early 90's and I loved watching him play for St. Louis. Here was a good fielding, switch-hitting player who was versatile, and hit for average consistently, which is why the Phillies, who were always complaining about being cash-strapped in the 1990's when no one would go to games because the teams sucked, paid up to get him in 1994.
All the Phillies got for their money was a guy who was always hurt, never produced in the middle of the line-up, and had a really stupid baseball card. Jeffries wasn't supposed to bring us a World Series, but he was at least supposed to be a good player. He was a disappointment.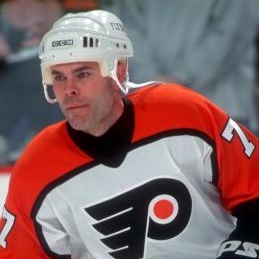 2. Adam Oates
Adam Oates is often named as one of the best hockey players of the 1990's. He was a creative playmaker who often was among the league-leaders in assists, and was also known for his high faceoff percentage. Oates was so good, in fact, that he is often mentioned in the same conversation as other greats such as Wayne Gretzky and Brett Hull. When he played for the St. Louis Blues and the Boston Bruins, Oates recorded over 100 points a number of times. However, after going from Boston to the Washington Capitals, it was clear that Oates wasn't the player he once was. He was still good, but not as good. With injuries becoming an issue for him, and with his point totals dropping by the year, it was very weird and disappointing that the Flyers would give up so much for so little.
With the Flyers making another Stanley Cup push in the 2001-2002 season, the Flyers found themselves in trouble when star Jeremy Roenick suffered a knee injury. Desperate for someone to fill the void, the Flyers traded first round pick Maxime Ouellet, plus two high draft picks in the upcoming draft for the once great Oates. What they got was 10 points (3 goals, 7 assists) in 14 games. Not horrible numbers, but Oates was in a contract year. So basically, he got some points, got hurt, and then left the team the following year. This is usually pointed to as one of many dumb trades by then GM Bobby Clarke. I know I don't have to say this, but the Flyers didn't win the Cup that year either.
1. Chris Webber
I'll just come right out and say it, fuck Chris Webber. This guy was a punk even when he went to college at Michigan, when he was the reason they lost the NCAA Championship Game by calling a timeout against UNC. Then, if that wasn't bad enough, Webber was found to have taken money illegally while at Michigan and lost all of his awards. He is still banned from University of Michigan to this day, and was convicted of perjury in the process. Despite immense talent, Webber has always been known as a guy with injury problems, who sometimes didn't give a full effort, and was an asshole on the side.
With all these things going against him, the Sixers traded Kenny Thomas, Brian Skinner, and Corliss Williamson to the Sacramento Kings to get Webber. All the Sixers got in return was a washed up has-been who was always hurt, wasn't able to gel with Allen Iverson (as ownership had planned on), and defense that was so god-awful that he was usually benched during the 4th quarter. Webber, who was of course overpaid, had his ultra-sensitive feelings hurt and decided to skip the final game of the season, which happened to be Fan Appreciation Night. Classy guy taking it out on the fans like that. The Sixers then paid him $25 million dollars, or the cost of the final two years of his contract not to play for them anymore.
—————-
Did you like this list? Did I leave something out? Please send us your feedback!