The Top Ten Unwritten Food Rules in Philadelphia
Philadelphia, for all its faults, is one of the greatest food cities I've ever been to. Yeah the city smells and a lot of the people are pretty offensive either by attitude, attire, or general demeanor, but if one comes to Philadelphia with the intention of eating and drinking well, one would likely leave here pretty happy, as I do every time I eat my way around this city of ours. However, eating in Philadelphia can be a tricky undertaking if one is not familiar with certain customs and unwritten rules. Therefore, I am proud to present The Top Ten Unwritten Food Rules in Philadelphia.
—————————
10. Yes, Mac's Tavern is owned by the guy from "Always Sunny in Philadelphia," but don't ask if he's there. You'd know if he was.
On Market Street between 2nd and 3rd in Olde City there used to be this bar called Skinner's. It was very unassuming, but it was a good place to get drunk in that area. Then, Skinner's closed and the space was bought by Rob McElhenney and his wife, Kaitlin Olsen, who play Mac and Dee on the popular show "It's Always Sunny in Philadelphia." McElhenny and Olsen opened Mac's Tavern, and it's quickly been labeled as the "Always Sunny" bar. While the "Always Sunny" gang has been there a few times, they are usually not there. Plus, with the exception of a few things on the wall and one or two things on the food menu, one would have no idea this was owned by the people from the show. The few times I've been there, I've seen the staff roll their eyes and cringe when people come in asking to see Mac or Dee behind the bar serving drinks, like on the show. McElhenney and Olsen are actors on a show that is filmed almost entirely in Los Angeles, they just own the place. You would know if they were in the establishment, so don't bother the staff of this otherwise decent business with your stupid inquiry. They're tired of it.
9. You can do better than crab fries at the sporting venues
We've all seen that insanely ridiculous line at the Chickie's and Pete's stand at either Citizens Bank Park, Lincoln Financial Field, or the Wells-Fargo Center. People waiting for almost a half an hour to get their hands on a tub of mediocre french fries that are coated in Old Bay and come with melted American cheese. This is ridiculous for a few reasons: 1. They use Old Bay on them, so there's no need to even call them crab fries, 2. The fries themselves are insanely average, 3. There are people who swear they can't enjoy an event at the sporting complex without crab fries. We're pretty lucky in that our sporting venues have pretty good food across the board, yet the most popular food appears to be these silly fries that one could make at home for half the price, and they would probably taste better. If the people at Chickie's and Pete's weren't marketing geniuses, these "crab" fries wouldn't be nearly as popular. You can do better.

8. Expect every place you go to be "cash only" until proven otherwise
It took me a while to figure this one out, because it's not like this in other cities. Just like how SEPTA is stuck in 1975, a lot of dining establishments in Philadelphia are also stuck in 1975 and don't accept credit/debit cards, just cash. It creates a bit of a problem when you go some place, eat a good meal, then discover they only take cash when you only have a card on you. Some places will have those really shady looking MAC machines on the premises, which is nice as long as you don't mind paying a $3.00 surcharge just to have the "pleasure" of taking money out there. Before going out to eat in Philadelphia to a place you or the people you're eating with are unfamiliar with, it is well-advised to take out some cash at the local Wawa, because chances are that place is cash-only, and no one likes feeling like a cash-less dickhead.
7. Despite what the signs say,  you can eat on SEPTA…you just probably shouldn't
The signs on the SEPTA buses, trains, and trolleys all explicitly say you're not allowed to eat on there. However, no one has ever bothered to enforce that rule. You can eat on SEPTA, and no one will hassle or bother you. However, it's well-advised that even though you can, you probably shouldn't. The reason why: NO ONE WANTS YOU TO STINK UP THE BUS/TRAIN/TROLLEY WITH YOUR SMELLY FOOD. Some of the SEPTA transportation vehicles, especially during the summer, usually reek of rotting garbage and body odor already just from Philadelphia's finest forgetting their body wash and Old Spice for the last three days when it has been 95 degrees with 92% humidity. The last thing any of us want is to combine that smell with the smell of hot wings, onions from a hoagie, or the unmistakable smell of someone chewing Cooler Ranch Dorito's with their mouth open. No one is trying to have their gag reflex triggered because some inconsiderate jerk is making an awful smell worse, so just wait until you get off SEPTA to stuff your face.
6. Perception is not everything
This is huge. Philadelphia is generally not a city that one would consider "fancy." There are a few things that are fancy, such as the Kimmel Center, but most of the city is very unassuming. As a result, the old adage of "don't judge a book by its cover" is very important when finding places to eat in Philadelphia. Geno's Steaks, for example, has a lot of lights and flash, and their food straight up stinks. Most places in Philadelphia will have a sign (maybe), likely be dirty-looking, and not have much seating, but those are usually the best places. One cannot go into Philadelphia and see a place that looks small, dirty and gross and expect it to be horrible. John's Roast Pork in South Philly on Snyder Avenue has some of the best sandwiches in the entire city. It also happens to be cash only, only has outdoor seating, and is right next to a factory that emits a sulfurous odor on occasion. Chink's Steaks on Torresdale isn't much to look out on the outside, but is awesome on the inside, and the food is even better! Don't judge a book by its cover. If you want to eat a place that you heard was good, eat there, and don't put any stock in what it looks like on the inside or outside.
5. There is no lingo to ordering a cheesesteak, just clearly state what you want and keep it moving
It drives me insane when I entertain guests from out of town, they insist we get a cheesesteak (despite my advisement that we can do better), and then we get there and they ask me how to order it. That whole "say the cheese you want and wit/witout" nonsense is ludicrous. We're human-beings, not Neanderthals who are incapable of communicating a complete thought, despite those in Philadelphia who really want to prove that statement otherwise. Those clowns over at Pat's Steaks have implanted in people's minds that the "only true way" to order a cheesesteak is through a secret lingo that every real Philadelphian follows.
Nope, pretty much the only people who follow it are people from the area who are ignorant to the good places, or people from out of town who have bought into this lame idea of ordering food. The funny thing is that if one went to Pat's/Geno's and said, "Could I get a cheesesteak with whiz and onions, please," they wouldn't say a word. They would ring up your total, give you your food, and then you'd eat and get some rancid diarrhea a few hours later. Skip the tricks. There is no cheesesteak lingo. Just communicate what you want as if you were ordering something else somewhere else.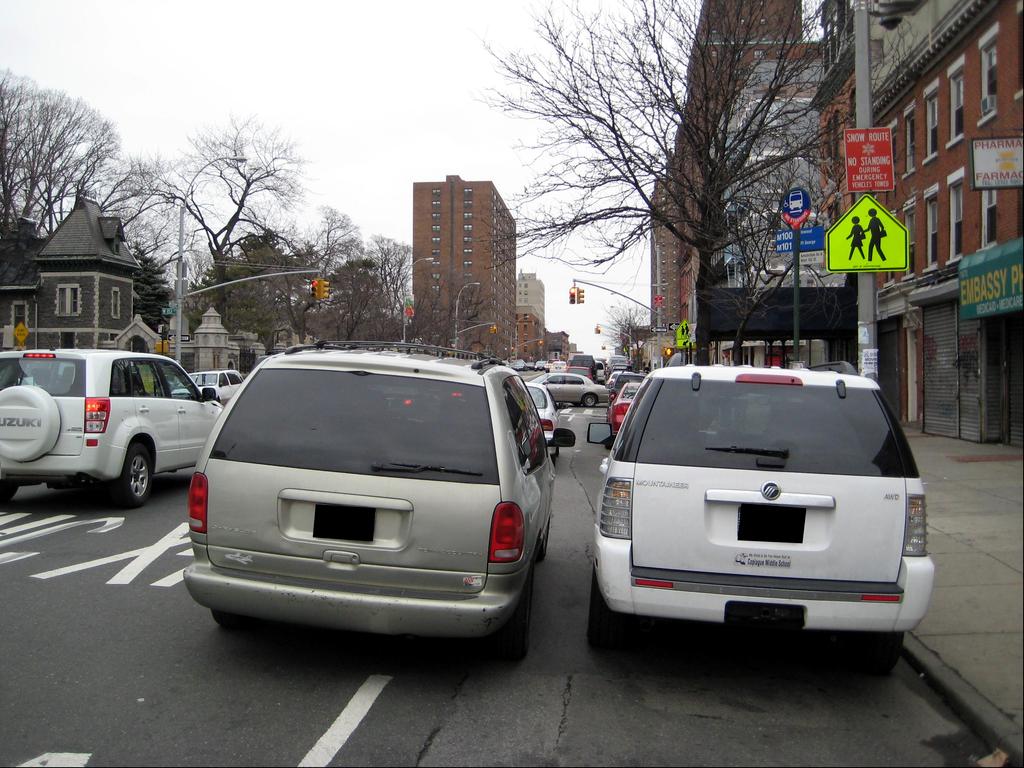 4. Double parking is for inconsiderate assholes…unless you're picking up good food
Driving in Philly is a nightmare. We've covered that one already. One thing I didn't mention in that post is that the streets are already narrow with cars parked on both sides…and then there is some asshole who feels the need to double park. Most of the time, it's somebody in an SUV who is just sitting there texting or yelling into their phone while their passenger (or even themselves) do something else. Not only is double parking dangerous, it also clogs up traffic and is an unbelievably selfish and inconsiderate thing to do.
I feel my blood pressure rise when I have to wait to drive past some idiot who double parked their car. However, I have been in a situation where a car is double parked outside an eating establishment that I know has amazing food, and I know someone just ran in to pick up an order. That's when I don't get mad…because I know someone in that car is going to be eating really well that night. Mad no, jealous, absolutely. People who double-park their cars to pick up their laundry or a pizza from Little Caesars deserve to have their tires slashed and windows broken, but if they're picking up a delicious pizza from Taconnelli's in Port Richmond or quickly grabbing a water ice from John's on 7th and Christian, they deserve a pass.
3. Don't eat at Geno's Steaks. Period.
If overt racism and right-wing prejudice is your thing, then by all means eat at Geno's. If it isn't, then do not patronize this business. Former Geno's owner Joey Vento was known to be a racist, and also raised many eyebrows when he started taking on the local Latino community in that area of South Philly with his dumbass sign. Eating at Geno's is like watching Fox News. You'll get bombarded with a million reminders about what a true American should do and be like, but then a clear-minded person will realize that it's just racist hate-mongering, and patronizing them is pretty much supporting those ideals. 
Unrelated to that, Vento is the only person I've ever seen who would put his face on all of the drink cups. Right, because that's all anyone wants to do while they eat their food and drink their Coke is stare at a tattooed bigot douchebag. The guy was an egomaniac who exploited racial and ethnic tensions for his own benefit. If you must eat at one of the "big two", eat at Pat's, but don't eat at Geno's.
2. For authenticity, don't eat your "wooder ice" with a spoon
Whether it's at John's on 7th and Christian, Italiano's on 12th and Shunk, Pop's on 13th and Oregon, or some other "wooder ice" place I'm forgetting, one should not eat their wooder ice with a spoon. This goes back to the idea of simplicity and being informal, the bread and butter of Philadelphia. Hell, where else in America could someone wear a beater and windbreaker pants and it would be considered normal?
Anyway, "wooder ice" is meant to be slurped straight from the Dixie cup. The spoon is too formal and proper. You might as well be walking around in a full tuxedo or wedding dress. Use a spoon after grabbing a medium lemon "wooder ice" from John's and expect someone sitting on their stoop to yell, "Yo, whaddya doin' wit dat spoon in derr? Yous betta chuck dat fuckin' thing before I kick ya fuckin' ass." For authenticity, do not use a spoon.
1. If you want a Yuengling, say you want a lager
Unlike the cheesesteak lingo, this is something that everyone buys into. Yuengling is delicious. So delicious, that one does not refer to it by name. If you want a plain Yuengling lager, all one has to do is say, "I'll have a lager please." You won't get a Budweiser or Coors, you'll get a Yuengling automatically. People might actually look at you funny if you request Yuengling by name. You don't want people looking at you like you have a penis growing out of the middle of your forehead (even if you dig the unicorn look), so call it a lager, and enjoy the experience that is Yuengling!
—————-
I hope you liked this list. Did I forget something? Please send us your feedback via reply, comment, or ask box!