Top Ten Most Blood-Pressure Raising Places in Philadelphia
Philadelphia is an amazing place with so many great things to offer in terms of food, culture, people, people watching, outdoorsy activities, art, etc. However, like any great city, there are also a lot of things about it that are annoying. Here is my list of Top Ten Most Blood-Pressure Raising Places in Philly

Honorable Mention: Villanova University
This was not included on the list itself, but that's only because Villanova University is not in Philadelphia, proper. It's a fine university with a good academic reputation and a beautiful campus. The reason why Villanova is annoying is because they're the only suburban Philadelphia university that has to pretend they're in the city to get people to pay attention to them. Their advertisements almost always feature some reference to Philadelphia, instead of focusing on the beauty that is Villanova, PA. Plus, Villanova students like to say they go to school in Philly. No, you don't, and it's annoying to the rest of us to hear you talk bullshit.
Honorable Mention: King of Prussia
It wasn't that long ago that King of Prussia was a quiet little farming community in Montgomery County. Then, a few things happened. Highways such as 422, 276, 202, and 76 were built, and they all went to King of Prussia. Combine that with rapid suburban expansion and migration in the 1960's and now King of Prussia is what urban planners have labeled an "edge city." King of Prussia has every fucking retail and dining option under the sun, and that's before you go inside that gigantic monstrosity of a mall, which is the largest in the country in terms of size and space. King of Prussia is a maze of highways, traffic, and consumerism. King of Prussia serves a purpose, but it's annoying to have to travel through. Again, not on the list because it isn't in Philadelphia proper.
10. Checkers at North Broad Street and Germantown Avenue
An odd choice for the list, but a good one. Checkers lies at the foot of the Beury Building, which is that abandoned structure in North Philly with the words "Boner Forever/4ever" on the sides of it. It's a North Philly institution, and Checkers just takes the focus off of this awesome feature. Furthermore, this Checkers in particular is particularly shady. My experiences there have all been interesting to say the least. On one occasion I ordered bacon-ranch fries, and ended up with a bag of 4 items including bacon-ranch fries. Another time, I went inside and saw active drug trafficking taking place. The last time I was there, I sat in the drive through for 20 minutes while I heard the workers screaming at each other through the order-taking system, and while cars behind me beeped like crazy as they waited for their own chance to order a Big Buford and some really good fries. Some Checkers locations are better than others, but this one is particularly annoying and lousy.
9. 5th Street stop of the Market-Frankford Line
This is the only location of the Market-Frankford Line that I screw up, and that's because there are all these different ways to get underground to the station. However, on the north side of 5th Street, you can only go west on the EL, and if you enter on the south side of 5th Street, you can only go west. Worst of all, SEPTA doesn't even label which is which, so you're forced to rely on memory. I only find this annoying because the other SEPTA stops along the EL are actually really well labeled…this one, for whatever reason is not.
8. K-Lot of Lincoln Financial Field before a Phillies game
If you enjoy a bunch of dickhead frat boys, obnoxious and loud girls ages 18-21, and country music blasting out of a Ford Excursion for 2 hours before a Phillies game, then K-Lot of Lincoln Financial Field is the place to be. Since the Phillies built Citizens Bank Park, the Phillies have been able to reconnect with young "fans" and turn games into a social event as well as a sporting event. The end result, especially during the summer months is people tailgating before every Phillies game in the K-Lot. I don't mind people having fun, and I actually enjoy tailgating myself. However, the kind of people the K-Lot seems to attract are douchebags. People who see you driving through the lot, but insist on playing cornhole in the middle of the lot without moving. They're the people that don't pick up their glass Corona bottles, and leave them for you to run over with your car on the way out. They're also the breeding ground for asshole guys who wear ILL shirts with khaki cargo shorts, or asshole girls who wear ILL shirts with jean-skirts. They're also the people who will wander around the stadium for 9 innings drinking seven dollar Bud Lights instead of, you know, watching the fucking game. K-Lot could easily be higher, but I like tailgating there by sitting on the trunk of my cousin's car drinking a beer and eating a hoagie.
7. The intersection of Cecil B. Moore Avenue and Ridge Avenue
Infuriating is the word I'd use to describe this clusterfuck of an intersection in North Philadelphia. It's so bad, I will go 10 minutes out of my way to avoid it. Here's what sucks about it. If you're on Ridge Avenue traveling north or south, it's not that bad because you get an extended green. If you're on Cecil B. Moore Avenue traveling east or west…hope you brought something to stay busy because you'll be there a while. Upon hitting a red light while traveling on Cecil B Moore at Ridge, you have to sit there for about 3 minutes. Then, it's red in all directions. Sweet, time to get moving. Wait a minute…no. Now the pedestrians all have walk signals on Ridge and Cecil B. Moore. Okay, walk signal has expired. Now I'll get my green light…wait, what the fuck? Ridge got ANOTHER green light and it's extended again. So, after sitting through two extended green lights and a pedestrian walk signal, the Cecil B Moore light finally turns green and you've been sitting there for 8 minutes. Driving in North Philly is pretty simple and straight forward, but this is a nightmare.
6. Penn's Landing
Penn's Landing raises the blood pressure because it could be something, but because of I-95 and poor city planning, it's nothing. Lets see, there's festival pier, Dave and Buster's, a seaport museum (or whatever the hell that thing is), Moshulu,  and that's about it. Oh yeah, there's also a weird concrete sign that looks like the symbol for Pi with a sign tied to it, some parking spots, street lights, and benches. Penn's Landing could have been amazing, especially combined with Old City's nightlife scene. Philly could have the same vibrant waterfront that all these other cities seem to have. Philly has a great nightlife, one of the best in the country in fact, however a waterfront that actually has more than Penn's Landing offers now would be something to put Philly's nightlife into a category of its own. There are multiple examples throughout the city of when someone along the way really fucked up, and Penn's Landing might be one of the most visible and notorious examples of that.
5. Franklin Mills/The Gallery
It's easier just to combine these two. Here's why Franklin Mills sucks: 1. The mall itself is laid out really poorly. I haven't seen that many ramps in one place since Veterans Stadium. 2. The roads in Franklin Mills Plaza have poor signage, leading to lots of near accidents and actual accidents. 3. The mall seems to attract the biggest assholes in both Lower Bucks and Northeast Philadelphia. 4. There's nothing redeeming about it. I just feel like a bad person going there.
The Gallery, on the other hand, is just an outdated pile of crap. Going to The Gallery is like being trapped in 1975. Everything about it is tacky and outdated. Like Franklin Mills, it has nothing really to offer that you can't just get somewhere else without the headache of stepping foot in the mall. The Gallery is an eye sore that just gets in the way of things. However, it is a good place if you want to get salmonella poisoning from the food court, or you want an airbrushed t-shirt that has your nickname on it.
4. Geno's Steaks
Outspoken bigoted owner Joey Vento has passed away, but that doesn't change anything about Geno's being a blight on Philadelphia. All the lights and shit on it make Geno's look more like a fancy nightclub instead of a crappy cheesesteak shop. Also, their insistence on broadcasting their conservative politics to everyone who eats there is pretty annoying if you're not a conservative. What's probably most blood-pressure raising about Geno's more-so than anywhere else is that the people who eat there and are from Philadelphia or the surrounding area reflect the same close-minded attitude that Joey Vento had. People who eat at Geno's are convinced their cheesesteaks are the best in the city, and that you can't call yourself a Philadelphian if you dislike Geno's. That's just a load of crap on so many levels. The best cheesesteak shops are the ones that are inconspicuous. They are holes-in-the-wall that only locals know about (i.e. Chink's, Dalessandro's, John's Roast Pork, Gooey Louie's), they aren't over-hyped tourist traps that appear on every travel special about Philly. Geno's embodies a lot of things that a restaurant shouldn't. People go to places to eat, not to be bombarded with politics.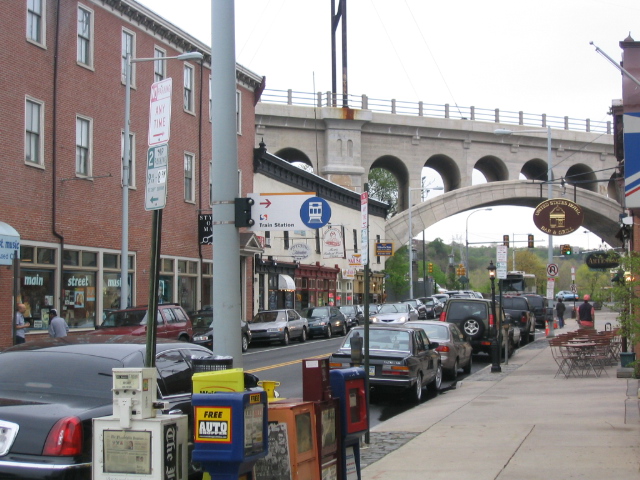 3. Manayunk
Manayunk during the day is actually a pretty lovely place. I love the small-town feel of Main Street, running along the canal, and eating at some of the great restaurants along the strip. Couch Tomato, Manayunk Brew Pub, and Chaaba Thai are probably my favorites. However, Manayunk on Friday/Saturday night is a goddamn headache. There is no parking. None. No parking anywhere. That's the first and most obvious problem. Then there's the other problem: the bar crowd in Manayunk. It's a young and vibrant crowd, but it's also a very annoying crowd that is not very fun to be around. My experiences have mostly been negative in Manayunk on Friday/Saturday night. They usually feature people wearing really expensive clothes, the smell of Axe body spray, and people being really shallow, phony, and inconsiderate. There's something very superficial about Manayunk's nightlife, and that alone makes it not worth going to on the weekend.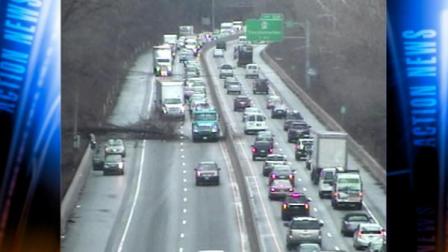 2. I-76/Schuylkill Expressway
It's 2am, there's a backup on the Schuylkill in both directions. It's 7am on Christmas morning, there's probably heavy traffic on I-76. This road is so god-awful. The traffic alone is pretty bad, then there's the fact that the merge points are short and have poor sight-lines, which leads to plenty of accidents. Then, there's the planning aspect of it. Who would think that putting a major east/west highway with a river on one side, and a cliffside on the other was a great idea? Expansion of this snarling nightmare is impossible. However, I-76 to its credit actually is the easiest way to get to a lot of places, which means even though we all know it sucks and isn't worth it, we're willing to take a gamble that there won't be heavy traffic because it usually is the best way to get certain places. That's why it raises my blood-pressure. It's like being in a bad relationship. I know it's no good for me and I shouldn't waste my time, but I keep booty-calling I-76 in the hopes that maybe things will work out this time. I-76 sucks pretty bad, but it's great compared to…
1. Roosevelt Boulevard
The best way I can describe the abortion that is Roosevelt Boulevard: it makes things needlessly complex. For a stretch of it, it is a 12 lane highway, six going in each direction. The "safety corridor" that divides the six lanes in each direction into three and three doesn't actually make things safer. Instead, it just divides the drive into inner and outer lanes, which means there are a few cross-over areas. Those are tough to negotiate. Then, there's remembering whether your exit off the Boulevard is in the inner or outer drive, since sometimes it changes. There's also the super confusing/poorly labeled intersections such as the one at Adams Avenue/Rising Sun Avenue, Castor Avenue, and Oxford Circle. You also have lots of traffic lights, which means a lot of stop and go. 
The Boulevard is the worst. It's not just dangerous, it's a complete failure. This road is supposed to make people's lives easier, and instead it just makes them more difficult. If you fuck up once on the Boulevard and miss your turn-off, it could take a while to correct. If you find yourself going north and you meant to go south (or vice-versa), good luck fixing that mistake. It's difficult and time consuming. Unless you know the city and the road pretty well, you're pretty much fucked. It's also the only road I've been on where even the GPS seems confused. There is nothing at all redeeming about Roosevelt Boulevard at all, and of course the always friendly and accommodating Philadelphia drivers don't make it any easier either.
——————
Did you like the list? Did you hate the list? Is there something you would add? Please send us your feedback via email, reply, or ask.